SSRG International Journal of Nursing and Health Science ( IJNHS )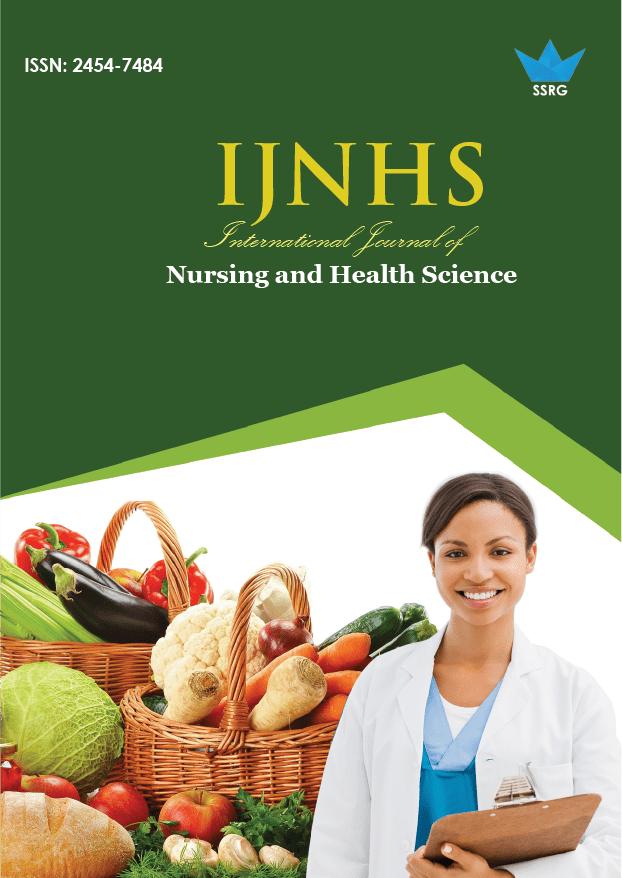 | | |
| --- | --- |
| Editor in Chief | Prof. Dr. Hanan Elzeblawy Hassan, |
| | Department of Nursing, |
| | Head of Maternity & Newborn Health Nursing, |
| | Beni-Suef University, Egypt. |
| E-ISSN | 2454-7484 |
| Publication Frequency | 3 Issue per Year |
| Publisher | Seventh Sense Research Group® |
| Paper Submission id | ijnhs@ssrgjournals.org |
Aim
SSRG International Journal of Nursing and Health Science ( SSRG - IJNHS ) is a scholarly double-blind peer-reviewed international journal focusing on the knowledge transfer and exchange in nursing and health sciences. It has international authorship, readership, and Editorial Board. By encouraging the global scholars to share their knowledge and experiences, Nursing & Health Sciences provides readers with a deeper understanding of health care worldwide and the opportunity to enrich their practices to improve global health.
Scope
SSRG International Journal of Nursing and Health Science (SSRG-IJNHS) publishes articles and contributes new novel experimentation and theoretical work in all areas of Nursing and Health Science and its applications. The journal welcomes publications of high-quality research papers on theoretical developments and practical Nursing and Health Science.
Papers are solicited from, but not limited to the following topics:
Advanced Nursing Practices
Alzheimer's Disease
Bladder Cancer Therapy
Bone Marrow Transplant
Childbirth Efficacy Analysis
CV Imaging Process
Dental and Oral Health
Digital Age and Future of Nursing
Diversity in Healthcare
Eating Disorders and Social Media Impact
Fatigue
Forborne Illness
Gene Therapy
Immunotherapy
Maternity and Women's Health
Medicare Benefits
Meditation
Mental Health and Psychiatric Care in Adults
Neurobiology
Patient Education
Speech Disorders Therapy
Vaccination
Vitamin Supplements
Yoga and Physiotherapy
Authors Geographical Coverage :
Nigeria, Bhutan, China, United Kingdom, Indonesia, Israel, Phillippines, India, USA, Saudi Arabia, Egypt, Tunisia, Greece, Taiwan, etc,.