International Conference

Aim of Conference:
The aim of ICCREST-2019 is to bring all the research domains together on a single platform. This conference will bring the research communities of different areas together at one place to share their researches and ideas. Also the purpose of this conference is to implement the researches of one field into another to bring out the best applications of these researches.
Important Dates:
| | | |
| --- | --- | --- |
| Submission Deadline | - | 07/03/2019 |
| Registration Deadline | - | 07/03/2019 |
| Conference Date | - | 08/03/2019 |
| Venue | - | Jayaram College of Engineering and Technology |
Registration Fees:
| | | |
| --- | --- | --- |
| UG/PG Student | - | Rs. 2000 / $50 |
| Research Scholar/Staff | - | Rs. 2500 / $65 |
| Corporate people | - | Rs. 4000/- |
| Active Listener | - | Rs. 1000/- |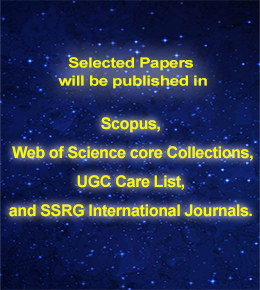 Submit your paper :
iccrest2019@gmail.com
If any queries, feel free to contact: 9965616532, 8110000960 , 9629389858
Topics
Civil, Mechanical, ECE, EEE, CSE, Bio-Tech, Chemistry, Physics, Mathematics, Linguistics, Management, Economics, Political Science, Geography, Agriculture, Humanities, Education, Medical Science & All Engineering Discipline.
**Not Limited to the above Topics, Author can submit any subject paper.
Instructions:
** Registration fee includes conference kit, refreshment, lunch, etc.
** A paper may contain 5 authors (including guide) in the nominal charge.
** If there is more than 5 authors in the paper, extra author have to pay Rs.500/- per head.
** Any one author can come and present their paper for mentioned registration fees.
** If co authors wants to participate, he / she has to pay Rs.500/- per head.
** Acceptance / Rejection will be intimated as soon as possible.
** Other State / Foreign authors who are not able participate can present their paper in absentia mode.
*

Selected Papers will be published in Scopus, Web of Science core collections, UGC Care list and SSRG international journals
| | | |
| --- | --- | --- |
| Er.M | Chairman | JCET |
| Subramaniam | Founder | JCET |
| Mrs.Nirmala Subramaniam | Principal | JCET |
| Dr.N.Kannan | Director of Southzone | SSRG Foundation |
Visiting Locations:
Puliyancholai Tourist Centre:

On the foot hills of kollimalai, a place of scenic beauty is the puliyancholai, 72 kms away from Tiruchirappalli via Thuraiyur filled with full of greenish trees and tamarind groves. This forest region is cool and green with added attraction of the stream. The stream is the natural bathing area for the tourists throughout the year. There is a water falls in the higher hills which is called Akaya Gangai, Besides, the water here has medicinal value.

The 18 th day of the Tamil month Adi is the time for worshipping the river here and more people visit Puliyancholai that day. Accommodation of two resorts and one Dormitory Building are available here. Puliyancholai to Agasa Gangai Falls(Hill top) is five hours hard Trek. One can have fantastic views of Million years old curved rocks, Dolmens, Pithukkuli Cave, different shaped big stones, forest produces on the way and at the Top plain - Honey, Guava, Orange, Mustard, Fenugreek, Garlic, Paddy, Maze, Millets, Jack fruits (more than 12 varieties) etc.

Rockfort:
The most famous land mark of this district is Rockfort Temple. This temple crowns a massive outcrop of rock, that soars 83 meters upwards, from the surrounding plains. It is reached by a step flight of 437 steps cut into the rock. Halway up is the Sri Thayumanaswamy Temple, dedicated to Lord Shiva. It has a 100 pillared hall, and a Vimana. From its summit we will get a fantastic view of the town plus its other main landmark, Srirangam, Cavery River, Coleroon River , Thiruvanaika Kovil.

Srirangam:
Sanctity is accorded to a place on the basis of its threefold popularity of the presiding deity, the quality of the holy waters and its hoary past. The holy shrine of Srirangam has al l these attributes in rich measure. The township of Srirangam envelopping the shrine is situated on a tiny island formed by the bifurcation of the river Cavery at a place called Mukkombu (Upper anaicut). The southern distributary of the river retains the name Cavery, while the northern branch is called Coleroon. The abode of the Supreme Lord, Sri Ranganatha, the reclining form of Lord Vishnu is situated in Srirangam 8 kilometers from Trichy city.There are not less than 22 gopurams, one of which is the tallest in India. The 72m high 13-tiered Rajagopuram was built in 1987 while the remaining 21 gopurams were built between th 14th and 17th centuries.

Jambukeswara Temple:
Thiruvanaikaval Jambukeswara Temple dedicated to Lord Shiva is situated 2 kms east of Srirangam, The temple is named after the elephant which is believed to have worshipped Lord Siva here. Installed under an ancient Jambu tree, the lingam is partially submerged by water and meant to represent God incarnate as water.

St. Lourdu's Church:
Built in 1812, this church has lovered doors, which when opened, turns the church into an airy pavilion. Its excellent setting and marvelous architecture, makes it a site worth visiting. It is in the heart of the Trichy city, surrounded by commercial markets.

Hazrath Nathervali:
It is ancient Durga more than 1000 years old. It is marvelous architecture , the doom is made up of shining marbles giving a great look to the Durga. It is also situated in the heart of Trichy City.

Mukkombu:
A wonderful picnic spot,where the river Kollidam branches off from the river Cavery. It is 18 kilometer from Trichy City.

Grand Anaicut:
Grand Anaicut (Kallanai Dam)- An Ancient dam built by Karikala Chola across the river Cavery in 2 AD.

Samayapuram:
Famous for its shrine to Goddess Mariamman. It is in the National Highway 45 (Trichy - Chennai highway). It is 20 kilometer from Trichy City.

Vekkaliamman Kovil:
The very famous Amman Temple situated at Woraiyur. (& kilometer from Trichy City)

Vayalore:
The Place of Temple dedicated to Lord Muruga. It is 6 kilometer from Trichy City.