International Conference
Aim of Conference:
The aim of ICIETEM-2019 is to bring the research domains in engineering, technlogy and managment on a single platform. This conference will bring the research communities of different fields together at one place to share their research and ideas. The main purpose of this conference is to incorporate interdisciplinary research to bring out best applications.
Important Dates:
| | | |
| --- | --- | --- |
| Submission Deadline | - | 08/04/2019 |
| Registration Deadline | - | 08/04/2019 |
| Conference Date | - | 09/04/2019 |
| Venue | - | International Centre in Goa |
Registration Fees:
| | | |
| --- | --- | --- |
| UG/PG Student | - | Rs. 3000 / $60 |
| Research Scholar/Staff | - | Rs. 3500 / $70 |
| Corporate people | - | Rs. 5000 / $115 |
| Active Listener | - | Rs. 2000/- |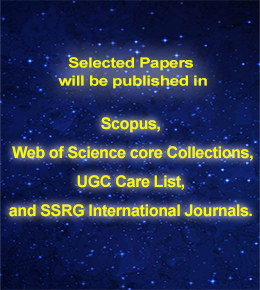 Submit your paper :
icietem19@gmail.com
If any queries, feel free to contact: 8110000960, 9629389858, 9787657657
Topics
Civil, Mechanical, ECE, EEE, CSE, Bio-Tech, Chemistry, Physics, Mathematics, Linguistics, Management, Economics, Political Science, Geography, Agriculture, Humanities, Education, Medical Science & All Engineering Discipline.
**Not Limited to the above Topics, Author can submit any subject paper.
Instructions:
** Registration fee includes conference kit, refreshment, lunch, etc.
** A paper may contain 5 authors (including guide) in the nominal charge.
** If there is more than 5 authors in the paper, extra author have to pay Rs.500/- per head.
** Any one author can come and present their paper for mentioned registration fees.
** If co authors wants to participate, he / she has to pay Rs.1000/- per head.
** Acceptance / Rejection will be intimated as soon as possible.
** Other State / Foreign authors who are not able participate can present their paper in absentia mode.
*

Selected Papers will be published in Scopus, Web of Science core collections, UGC Care list and SSRG international journals
| | | |
| --- | --- | --- |
| Dr.R.Surendiran | Publication Chair | Editor |
Visiting Locations:
Calangute:
One of the most popular beaches in Goa and also the largest beach in North Goa, Calangute beach is among the most recommended tourist places in Goa and popular with both domestic and international tourists. It is also the busiest and commercialized beaches in Goa and during peak seasons, this beach is swamped with people from all over the world. It offers a long coastline with an amazing view of the sea and the beach front is dotted shacks, restaurants, clubs and shopping outlets. Once can also enjoy a plethora of water sports at Calangute beach. Anybody and everybody who has been to Goa would have visited Calangute beach, popularly known as the 'queen of beaches'. It easily tops the list of top places to visit in North Goa.
Fort Aguada:
A well-preserved 17 century Portuguese fort, Fort Aguada is located on the Sinquerim Beach in North Goa. Built as the chief defence of Portuguese against the Dutch and Marathas, it was the most prized and crucial fort of the Portuguese. The fort is ringed by thick battlements and a deep dry moat. 2 things worth visiting inside the fort are the 13 metre high lighthouse built in 1864 and a vaulted cistern capable of storing ten million litres of fresh water. From here fresh water was supplied to the ships that stopped there. Some buildings of the fort are still in good shape having been converted into a jail and interestingly, it happens to be the largest jail in Goa. Fort Aguada is one of the top sightseeing places in Goa.
Deltin Royale Casino:
The Deltin Royale Casino boat is the largest casino boat in Panjim, Goa. It offers 24 hours of nonstop fun in an area spread over 40,000sq.ft of luxury live gaming on three levels with 850 gaming positions. Live entertainment is on the restaurant floor and during peak hours. You need to buy an entry and play package to gain access to the casino. You can also choose to buy a stay and play package which lets you stay at the Deltin hotel and access to the casino as well. For those travelling during national holidays, the casino is closed on all national holidays.
Chapora Fort:
Popular as the place where the Bollywood flick "Dil Chahta Hai" was picturised, the Chapora fort stands at the mouth of the Chapora river as an old guard. Today this laterite fort is almost in ruins but does offer some sensational views of the coastline from the top of the fort. That itself is reason enough for any photo enthusiasts.
Basilica of Bom Jesus:
Churches in Goa are an important legacy of it being an erstwhile Portuguese colony. Built across centuries, these architectural wonders were more than just a place of worship; they hold a place of historical or cultural significance as well. One of the popular churches in Goa is the Basilica of Bom Jesus. The mortal remains of St. Francis Xavier is preserved here in this Basilica and hence revered by many. It also is an UNESCO World Heritage site.
Pandava Caves and Arvalem Waterfall:
About 9 kms to the south of Bicholim town in North Goa is located the 6th century Pandava cave complex and Arvalem waterfalls. The cave complex is divided into 5 compartments and the 'linga' enshrined in the middle compartment is held in great reverence by devotees here. Another attraction close to the Pandava or Arvalem caves is the Arvalem waterfalls. The water cascading down from a height of 50 mts makes for an awesome view, and there is a park nearby from where you can view the waterfall as well as the lake at the bottom.
Mangeshi Temple:
Goa may have a long Portuguese history and quite a few famous churches, yet it is also home to beautiful temples and ornate mosques as well. Ponda region in Goa is famous for the 16th century Safa Shahouri Mosque as well as the 450-year-old Shri Mangesh temple dedicated to Shiva. The highlights of the temple are the seven-story lamp tower (deepstambha), a magnificent water tank, believed to be the oldest part of the temple and there is a prominent Nandi Bull as well inside the temple. Located on a small hillock, it is also one of the largest temples in Goa. Because of its temples and churches, Goa is also a popular tourist destinations in India for religious travel.
Dudhsagar Falls:
Literally meaning a sea of milk, Dudhsagar Falls is a 4 tiered waterfall located and the 4th tallest waterfall of India. Located at a distance of 46km from Madgaon, the falls appear spectacular during monsoons after been fed by the rains. There is a railway bridge which passes right in front of the waterfall and passenger train passing through the fall tend to always slow down for passengers to view the fall up close. Unfortunately, there is no viewing platform or site for tourists to take in the full view of the enormous waterfall. Some people do get down at the Dudhsagar station and walk backwards on railway tracks, but that is certainly not recommended.