International Conference

Aim of Conference:
The aim of ICIMCEH-2020 is to bring all the research domains together on a single platform. This conference will bring the research communities of different areas together at one place to share their researches and ideas. Also the purpose of this conference is to implement the researches of one field into another to bring out the best applications of these researches.
Important Dates:
| | | |
| --- | --- | --- |
| Submission Deadline | - | 12/02/2020 |
| Registration Deadline | - | 13/02/2020 |
| Conference Date | - | 14/02/2020 |
| Venue | - | Don Bosco College of Arts & Science, Keela Eral, Thoothukudi |
Registration Fees:
| | | |
| --- | --- | --- |
| UG/PG Student | - | Rs. 2000 / $50 |
| Research Scholar/Staff | - | Rs. 2500 / $65 |
| Corporate people | - | Rs. 4000/- |
| Active Listener | - | Rs. 1000/- |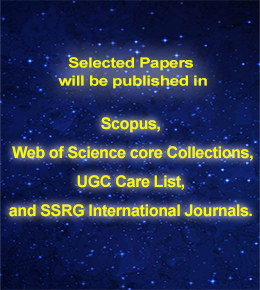 Submit your paper :
icimceh2k@gmail.com
If any queries, feel free to contact: 8110000960, 8110000962
Topics
Civil, Mechanical, ECE, EEE, CSE, Bio-Tech, Chemistry, Physics, Mathematics, Linguistics, Management, Economics, Political Science, Geography, Agriculture, Humanities, Education, Medical Science & All Engineering Discipline.
**Not Limited to the above Topics, Author can submit any subject paper.
Instructions:
** Registration fee includes conference kit, refreshment, lunch, etc.
** A paper may contain 4 authors (including guide) in the nominal charge.
** If there is more than 4 authors in the paper, extra author have to pay Rs.500/- per head.
** Any one author can come and present their paper for mentioned registration fees.
** If co authors wants to participate, he / she has to pay Rs.500/- per head.
** Acceptance / Rejection will be intimated as soon as possible.
** Other State / Foreign authors who are not able participate can present their paper in absentia mode.
*

Selected Papers will be published in Scopus, Web of Science core collections, UGC Care list and SSRG international journals
| | | |
| --- | --- | --- |
| Dr. S Pious Missier MSc. M.Phil. B.Ed. Ph.D | Principal | Don Bosco College of Arts & Science Keela Eral |
| R. Surendiran MCA. PGDICL (Ph.D) | CEO | SSRG Foundation |
Visiting Locations:
Kalakkad Wildlife Sanctuary
The Kalakkad Wildlife sanctuary is one of the few national parks in South India that house the Tiger. Lion tailed macaque, Nilgiri langur, bonnet macaque, langur, Nilgiri tahr, sambar, sloth bear, gaur, elephant, flying squirrel, panther, wild dog and pangolin are some of the other animals found here.

Kalugumalai
A tiny tranquil town in the district of Tuticorin in Tamil Nadu, Kalugumalai or Kazhugumalai is famous for its ancient rock-cut temples and monolithic Jain beds. The city got its name from the hills surrounding it with the same name, which translates to "Hill of Vultures". The hills that surrounding the town gives a unique physical beauty to the whole place. They were earlier known as known as Araimalai or Thirumalai

Tuticorin Port
The Tuticorin Port is another very poplar site. Being the port hub of the state, the Tuticorin port is perhaps the busiest places in the city. For all those who are fascinated by the way a port functions, the port is all of it and much more.

Thiruchendur Murugan Temple
Thiruchendur Murugan Temple is one of the most esteemed religious places of south India. Located right on the beach of Tuticorin District, it attracts millions of devotees over the year paying respect to the in-house deity of Lord Murugan, the Tamil version of Lord Kartikeya. The temple has a very interesting history rooted in the legend of Lord Murugan's first battle, which was also the purpose of his birth. The temple hosts a number of festivals throughout the year when devotees can make offerings to the god, the most important and popular one being Skanda festival during October-November marking the victory in the battle of Thiruchendur. It is one of the few temples in India which has various forms and avatars of both Lord Vishnu and Lord Shiva together. Being located within 200 metres of the sea, it is a miracle that the temple premise is never flooded - not even during the Tsunami.